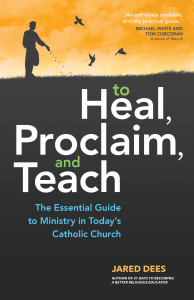 The Essential Guide to Ministry in Today's Catholic Church
Jesus had a threefold ministry on Earth: to heal the sick and wounded, proclaim the Good News, and teach those who became his disciples. It's an approach imitated by the saints throughout history and continues to be the cornerstone of successful ministry in parishes, Catholic schools, and other vibrant programs today.
We have to evangelize before we catechize. This book will show you how.
Order today:
Amazon | Barnes & Noble | Ave Maria Press
Who Should Read this Book
⛪️
If You Work for the Church
Whether you are a minister working with children, teens, or adults, this book will help you inspire the people you serve and grow your ministries.
🙋‍♀️
If You Volunteer in Your Church
Do you care about your parish and our Church? Do you want to help spread our faith to others who need it? This book will show you how.
👋
If Your Friends or Loved Ones Have Left the Church
Can't understand why your children, siblings, and friends no longer go to Church? Following the heal, proclaim, and teach approach might convince them to come back.
To Heal, Proclaim, and Teach Book Resources
Download the Small-Group Discussion Guide
Packed with discussion questions and suggestions about ways you can meet with a team of fellow evangelizing disciples, this guide is the perfect companion for any group wanting to implement To Heal, Proclaim, and Teach in their parish.
Download the Evangelization Examen
This one-page tool encourages you to reflect on your day and your work as a disciple of Jesus Christ.
Download the Evangelization Reference Guide
This one-page Evangelization Reference Guide (a.k.a an Evangelization Cheat Sheet) offers list of various ways that you can heal, proclaim, and teach in your life and ministry as an evangelizing disciple.
Expanded Table of Contents
Introduction
Why the Heal, Proclaim, and Teach approach is more important today than ever before.
Chapter 1: The Evangelized and the Evangelizers
An overview of the various groups of people in the Gospels who Jesus healed, proclaimed the gospel, and taught as disciples.
Chapter 2: Stages of Evangelization
We have to evangelize before we catechize. This chapter uses the Church's teaching about the stages of evangelization to explain why.
Chapter 3: Heal
Most people overlook the absolutely essential work of healing we must do as ministers and evangelizing disciples. This chapter explains how we can heal today.
Chapter 4: Proclaim
Proclaiming the good news is about more than good preaching. It is about showing people that God loves us and how we can love God back.
Chapter 5: Teach
Catechesis is not education. Catechesis has to be interesting and inspiring or it should not be done at all. This chapter will help ministers, teachers, and catechists of all ages engage people as disciples of Christ.
Chapter 6: Be Evangelized
Through a series of challenges, the reader will embark on a journey of spiritual formation that enables him or her to heal, proclaim, and teach.
Chapter 7: One-on-One Evangelization
Too many ministers focus on programs and plans, but overlook the critically important and often unstructured one-on-one mentoring that is essential for almost any ministry to be successful.
Chapter 8: Group Evangelization
Whether a parish is developing small group ministries or large group gatherings, this chapter will help integrate the heal, proclaim, and teach approach into the day to day life of Catholic ministries.
Chapter 9: Ministry with Children
How catechists and teachers can heal, proclaim, and teach in religious education and Catholic schools today.
Chapter 10: Ministry with Teenagers
How youth ministers and high school teachers and heal, proclaim, and teach in parish youth groups and high schools today.
Chapter 11: Ministry with College Students
How campus ministers and college students can heal, proclaim, and teach on college campuses today.
Chapter 12: Ministry with Young Adults
How young adult ministries can be formed into thriving groups of single and married Catholics in their 20's and 30's.
Chapter 13: Ministry with Adults
How adult faith formation can be revolutionized by the heal, proclaim, and teach approach to Catholic ministry.
Chapter 14: Good Soil
A call-to-arms for all who have heard the Word of God and live it. It is time for us to cultivate good soil in our world and the Church today!