One-on-One Evangelization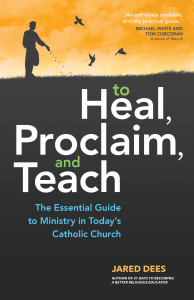 Our encounters with Christ almost never occur in a vacuum; they almost always involve some person—maybe a friend, a family member, a mentor, a teacher, an author—who inspires us first to see God and then to take a chance on God. In many ways, our stories of encounters with Christ are really stories about our relationships
with others.
You are or will be in someone else's encounter story. Someone someday is going to share the story about how they met Jesus and experienced a transformation in life thanks in part to a relationship with you. You and I have the power and responsibility to guide people on a path toward an intimate and ongoing encounter with Christ. He has called us to be his witnesses, and we answer by simply entering into a relationship with others and sharing our relationship with God.
This chapter is focused on our ability to minister to individual people and develop an authentic relationship with them that is anchored in a love of Christ. Getting better at one-on-one evangelization is simply about developing our ability to love.
Top Takeaways from Chapter 7
No Goals
Evangelization shouldn't feel like proselytization. Taking a no-goals approach enables you to give rather than take. It is an essential disposition in order to be a wounded healer.
The Art of Accompaniment
Develop face-to-face, long-lasting relationships with others. Listen and ask questions. Be there for someone when he or she needs you the most.
Personal Prayers
Tell someone you will pray for them . . . then actually do it.
Learn names.
Using someone's name in conversation is powerful. It makes someone feel important and shows that you care.
Evangelizing Apologetics
When questions about Church teachings come up in conversation, always keep your response grounded in the Good News. Seek to understand the reason behind the questions someone is asking.
Discipleship
This commonly used phrase today expresses a model of mentoring in the Church through which someone guides another person along the path towards intimacy with Jesus.
Inviteable Events
An inviteable event is an offering of your ministry that constantly welcomes newcomers. These events have very few barriers that might prevent someone from coming or feeling like an outsider. They are opportunities for healing and proclamation.
Further Reading
"Friendship Evangelization: How to Share Your Faith without Feeling Bad About It"
Jared Dees
"When evangelization feels like proselytization, it probably is."
Jared Dees
"Grassroots Approach to Ministry"
Jared Dees
"The Only Number that Matters When It Comes to the Decline in Catholicism"
Jared Dees
"Seed Gifts"
Jared Dees
"7 Practical Strategies to Help Your Child Return"
Brandon Vogt
"100% One-on-One Discipleship Mentoring as Confirmation Prep"
Colleen Vermeulen
"Demystifying Discipleship"
Jim Schuster
"The Discipleship Flywheel"
Jim Schuster
"Building Relationship"
Katie Prejean McGrady
"My Mission Trip to Ireland Taught Me the Real Meaning of Evangelization"
Therese Aaker, FOCUS
"Don't do witness; be a witness"
Sr. Terry Rickard, RENEW International