When setting goals or creating a dream, plan, and vision for your life, I can think of two possible ways to approach it:
1) You can think about what you want out of life and what will make you happy.
Or,
2) You can think about how you can help others get what they want out of life and make them happy.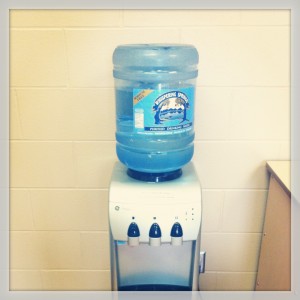 Christians believe that you can't really find #1 without #2. I have a quote on my wall from Vatican II that reads, "Man . . . cannot fully find himself except through a sincere gift of self" (Gaudium et Spes, 24). It is so easy to get sidetracked and overlook this truth in our day to day lives.
. . . which brings me to the interesting epiphany I had at the water cooler yesterday.
As I walked up I noticed that it was almost empty. My reaction, sadly, was a hope that I would not be the one to finish it off. I didn't want to replace it. I didn't want to expend the admittedly small amount of energy to pick up a new jug and replace the empty one.
Wow, how selfish.
Then I got to thinking: How many times do I do that in a given day? How many times a day do I see something to do and immediately think of myself and my time and energy? How many times do I leave that toy on the floor and ignore it or set a dish in the sink instead of washing it? How many times do I grudgingly finish some task for work?
Then I went further . . .
When I envision a future–what I want to do with my life–do I focus on myself or on others?
When I really thought about it, again sadly, the vision I've been forming for the future is about me.
I've gotten so lost in my own pursuit of arbitrary goals that I've ignored the real meaning of it all. I've ignored vision. I've ignored calling. I've become comfortable. I haven't been living for others. I've been beaten by pride.
So, here are some questions for my day that I'm hoping will restore some vision. I invite you to reflect with me:
What could I do that will have an impact on the most people? (Think wide)
What could I do that will have the most impact on people? (Think deep)
What could I do that will will feel passionate and contagious? (Think deep and wide)
Reflecting on these questions really made me thing hard about not only what I want to do in the future, but also what I should be doing now. I should be a better husband and father above all else (deep). I should take more chances (deep and wide). I should write more about topics that both excite and scare me (deep). And I should continue to focus on helping religious educators as best I can (wide).
P.S. I didn't finish off the water cooler. There was still a lot of water left. But later in the day I came back and sure enough there was the cooler without a jug of water on it. Someone needed help picking up the jug and placing it on the cooler. God has a real sense of humor, doesn't he?