Each month I like to assess my time on creative projects and progress on specific goals in my work as a creative entrepreneur and author. Posting that self-assessment here helps me stay accountable to my mission. Here is my report for May 2019.
My 2019 Goals
My One Word: Together
Professional Goals:
76% / Double the number of members of The Religion Teacher (December 2017 to present) (-2%)
3,162/5,000 copies sold of Christ in the Classroom (+unknown)
161,529/465,00 words for kids (A part of my #1millionwordsforkids goal) (+15,528 words)
0/4 new published works of fiction on Amazon.com (+0 published books)
4/7 paid speaking gigs (+0)
Personal Goals:
26/100 books read (+5 books)
6/73 Books / Read the entire Bible from beginning to end. (+2 books read)
39/100 30-minute workouts (+12 workouts)
Incomplete / Play Bruce Springsteen's "Thunder Road" on the harmonica.
How I Spent My Time in May 2019
I track every minute of time I spend working on projects using an app called Toggl (here is why). Here is a list of the top ten projects I spent the most time on last month:
20:51 – Beatitales
15:32 – The Religion Teacher Email & Customer Service
9:00 – Other Fiction Projects
9:02 – The Religion Teacher Blog Posts
7:47 – Daily Review
5:12 – Weekly Review
4:52 – Morning Preview
3:14 – TikTok Videos
2:18 – The Religion Teacher Newsletter
Total Time: 102:20
May 2019 Highlights & Lessons Learned
Beatitales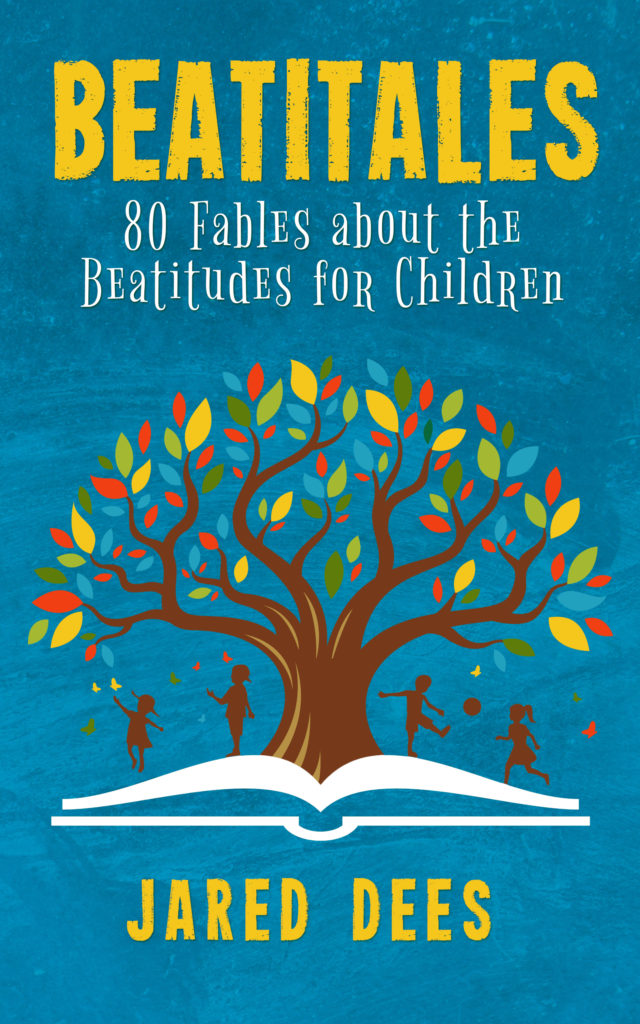 I am finally preparing my first work of fiction for publication. I worked with an editor to improve and replace some of the eighty fables and parables in my forthcoming book, Beatitales: 80 Fables about the Beatitudes for Children. The book will be out in July.
I worked for a traditional publishing company for nine years. The lessons I learned there were incredible. Now I am finding out how much more I need to learn about the process of self-publishing a book. I'm excited about all the new lessons and looking forward to learning from mistakes as I release my first book!
The Religion Teacher's Saints Worksheet Collection
I sprinted through the completion of the final set of worksheets for The Religion Teacher's Saints Worksheet Collection this month. I'm launching them in June to get the word out about these 52+ resources for religious educators. I've been working on this project since September 2018. I'm really excited about the response so far and look forward to hearing how people use them in the next school year.
I did not expect how much reading the stories about the saints would influence my own personal faith. As I read their stories, I started to feel my own little tugs on my heart from God to follow in some of their footsteps. I started to think about the ways I could emulate their lives in my own way of living as an author, husband, dad, and parishioner.
Which brings me to one of the most surprising things about last month . . .
TikTok Videos
I heard Gary Vaynerchuk talk about a new social media/content platform called TikTok. I created an account awhile ago, but didn't think much about it
Then I read about the lives of a few saints who wanted to be monks, but were called by God to become missionaries instead. This really hit me. I realized that I would love to just sit in my basement and write and create resources for religious educators. I was craving a monk-like creative lifestyle.
For some reason I thought of TikTok as an opportunity to connect people with Christ. I saw it as a place where I could share good news about God and connect with younger people who might be in need of messages like that. Most of the content I've encountered on TikTok is not something I would want my kids to see.
So, I figured why not try to do something about it and see what happens.
I've never experienced growth on a social media platform so quickly. You can find my videos here: @jareddees.
The second video I created went "viral," or at least the closest thing I've seen to viral. It had a pretty simple message: God is good. (Watch it here.)
I was getting 100+ new followers per day instead of the 1 or 2 new followers on other social media platforms.
There is no real connection between this content and my work with religious educators or parents. It is really just an opportunity to do online missionary work. I'm excited about it. I'm blessed to have the time to do it and looking forward to creating more content and connecting more people to Christ online.