Here is my monthly report on projects, goals, and the lessons I learned along the way.
My 2021 Goals
Professional Goals:
458,957/1,000,000 words for kids (A part of my #1millionwordsforkids goal) (+17,097 words)
606/1,000 Resources (Videos/Worksheets) for Members of The Religion Teacher (+13 resources)
Personal Goals:
5/24 Books Read
33/73 Books of the Bible read from beginning to end (+0 books read)
9/100 30-minute workouts (+9 workouts)
How I Spent My Time in January 2021
I track every minute of time I spend working on projects using an app called Toggl (here is why). Here is a list of the top ten projects I spent the most time on last month:
18:16 – The Religion Teacher Email & Customer Service
10:23 – Daily Review
8:57 – The Religion Teacher Membership Website January Launch
8:30 – Morning Preview
4:45 – Weekly Review
3:46 – The Religion Teacher's Bible Biography Worksheets (Member Resources)
3:37 – The Religion Teacher Blog Posts
3:26 – 2020 Annual Review
3:32 – Formative Fiction Newsletter
Total Time: 105:36 Hours
January 2021 Highlights & Lessons Learned
Formation5 Newsletter Update
I completed the third straight month of daily Formation5 emails for parents. Here are just a few observations:
The open rate of daily emails is much higher than a weekly newsletter.
Write what you want to read. I personally benefit so much for writing these emails and so does my family.
People love the saints. By far the emails with the most engagement feature saints of the day.
Repurpose Squared: Some of these emails are based on other resources I have already created. Other emails are completely new, but I am able to repurpose them as worksheets, lesson plans, or videos.
For example, I did some research on the Feast of St. Blaise and the Blessing of the Throats for the February 3rd Formation5 email, then I turned that email into a video that was viewed more than 4,000 times in a few days:
Relaunching The Religion Teacher Membership Website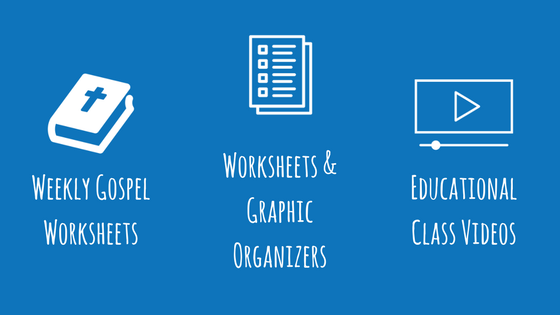 I like to offer bonuses to new members of The Religion Teacher in September and January of each year. It always offers an opportunity to refocus our energy as religious educators towards a common goal. I feel confident that the 600+ downloadable tools will make an impact on the lives of the students in Catholic classrooms whether in person or virtual. These two times of year give me a chance to highlight what the membership website has to offer.
The Religion Teacher's Bible Biography Worksheets
The best way to create a large library of resources is to think in terms of collections rather than random resources. I have created more than 100 worksheets about Catholic saints and I used the same format to create more than 50 worksheets about people in the Old Testament.
I have a long list of projects I want to start, but I keep realizing over and over again that there is so much freedom in focus. When I focus on just one project until completion, I end up being much more prolific than trying to create multiple resources at the same time.
It felt great to get to a good milestone for this Bible Biography Worksheet Collection.
Now, onto the next project!