Praying the Angelus: Find Joy, Peace, and Purpose in Everyday Life
The Angelus is a centuries-old Catholic devotion that recalls the annunciation of Christ's birth by the Angel Gabriel to the Virgin Mary. In Praying the Angelus, popular author and speaker Jared Dees reinvigorates the devotion, shares intimately from his own experience of it, shows us how to get started, and enriches the practice with original meditations to reflect on the words of both the Angelus and the Regina Caeli.
Jared Dees was twenty-seven and in his fourth year of teaching religion in a Catholic school when he first experienced the Angelus. He allows the devotion to anchor his prayer life and challenge him to daily conversion of heart and will.
Dees introduces the Angelus devotion and explores its rich history and significance for the Church. As spiritual companion and guide, he offers meditations on the words and images of both the Angelus and the Regina Caeli, which is prayed during the Easter season. We find lessons about the power of repetitive prayer, the humility of being a disciple, the importance of admitting time belongs to God, the wisdom of taking time with discernment, and the joy of resting in the Lord's presence. He shares personal stories of the life-change power of the Angelus and guides both newcomers and those already familiar with the prayer to contemplate the mysteries of salvation that lie at the heart of the devotion—the Annunciation, Incarnation, and Resurrection.
Named for the opening words of the devotion's first prayer in Latin, "The Angel of the Lord declared unto Mary," the Angelus is typically prayed at 6:00 a.m., noon, and 6:00 p.m. each day. Likewise the Regina Caeli is named for the opening lines of its prayer, "Queen of heaven, rejoice, alleluia."
Praying the Angelus is supported by Dees's website, TheAngelusPrayer.com, where people can gather online to participate in and share this devotion with others.
Amazon | Barnes & Noble | Ave Maria Press
To Heal, Proclaim, and Teach: The Essential Guide to Ministry in Today's Catholic Church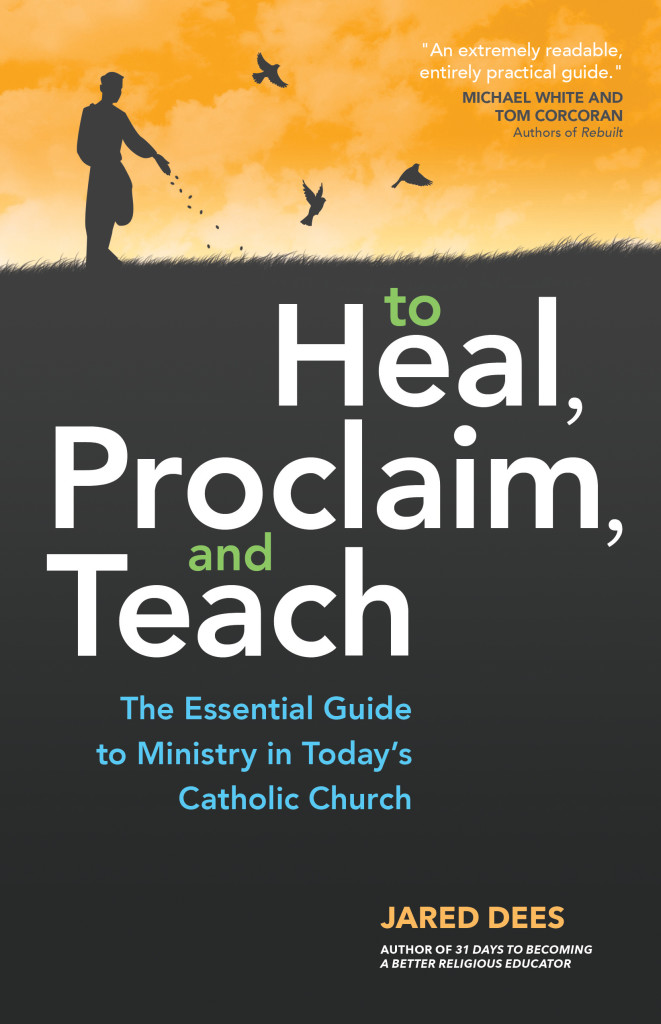 Jesus had a threefold ministry on Earth: to heal the sick and wounded, proclaim the Good News, and teach those who became his disciples. It's an approach imitated by the saints throughout history and continues to be the cornerstone of successful ministry in parishes, Catholic schools, and other vibrant programs today.
Jared Dees—author of 31 Days to Becoming a Better Religious Educator—will help you understand how Jesus' ministry transformed lives through biblical examples such as Paul, Bartimaeus, the centurion's servant, and the woman at the well. He shares the importance of healing through the ministries of saints, such as Mother Teresa, Br. André Bessette, Ignatius of Loyola, and Fr. Damien of Molokai.
In To Heal, Proclaim, and Teach, Dees offers practical examples of how to apply Jesus's threefold ministry to everyday life: allow yourself to be constantly evangelized; learn to help others through both good and bad times; and root yourself in community. He also suggests examples of ministries that are effectively reaching the faithful of all ages today, including Catechesis of the Good Shepherd, Life Teen, Teens Encounter Christ, Theology on Tap, FOCUS, and Christ Renews His Parish. Dees will guide you with practical ways to imitate Jesus's ministry in your own classrooms and faith formation programs at all levels.
Amazon | Barnes & Noble | Ave Maria Press
31 Days to Becoming a Better Religious Educator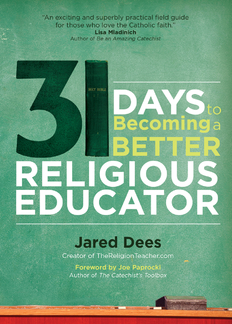 Creator of the popular website The Religion Teacher, Jared Dees shares practical, easy-to-use teaching strategies and exercises for spiritual growth in his book 31 Days to Becoming a Better Religious Educator. These components are designed to improve the effectiveness of any busy religious educator.
Volunteer catechists and professional religion teachers are responsible for two unique and challenging tasks: sharing (and assessing) information and the spiritual formation of their students. This succinct, practical resource helps busy catechists and religion teachers with both tasks and is designed for use either over consecutive days in one month, or by specific themes that encourage personal improvement in areas of discipleship, service, leadership, and overall teaching. Each of the thirty-one days includes a clear title that gives the lesson theme, a quotation from Scripture, an introduction to the exercise, step-by-step actions to take for the day, and spiritual enrichment ideas for the educator.
Amazon | Barnes & Noble | Ave Maria Press
The Lumen Fidei (Light of Faith) Study Guide: A Companion to Pope Francis's First Encyclical
Reading and understanding the deeply theological work of papal encyclicals can be a challenge for the everyday Catholic, yet understanding the lessons in Pope Francis's first encyclical at this time in the Church's history has never been more important.
The Lumen Fidei (Light of Faith) Study Guide includes summaries of each section, in depth commentary, reflection questions, a glossary of key terms, and suggestions for integrating the encyclical into personal or community prayer. Perfect for personal study or group discussions, this study guide is the essential companion to the "work of four hands," Pope Francis and Pope Emeritus Benedict XVI.
Find out more: lumenfidei.com/study-guide/
Individuals: Purchase and download the eBook on from Amazon Kindle.
Groups: Purchase the PDF License from Ave Maria Press to print out multiple copies for use in groups.
The Religion Teacher's Guide to Lesson Planning 
The Religion Teacher' Guide to Lesson Planning provides a framework for lesson planning and 250 essential activities and teaching strategies that will save valuable hours planning lessons and provide a treasure chest of ideas that will last the whole year. This free eBook provides a step-by-step process to lesson planning that anyone can easily implement.
What is in this free eBook?
A Four Step Lesson Planning System that most teachers fail to follow
Unit planning and lesson planning templates that make lesson preparation easy and organized
SWBAT lesson objective starters that will move students beyond simple tasks
Assessment ideas for students with various learning needs and multiple intelligences
The Learning PROCESS framework for designing instruction that will engage students and help them perform better on tests and assessments
250 activities and teaching strategies that will provide so much variety, students will never complain, "Oh, not that again!"
Sign up for free at www.thereligionteacher.com/guide-to-lesson-planning.